While converting a guest room into an office, I found an old gem that I had preserved.
When I was pursuing my undergraduate degree, there was a professor named Dr. Brian Morley. Dr. Morley was an awesome teacher, but I noticed every time that he went home he would carry a HUGE stack of papers, obviously more than a single man could grade. Now, all of the significant essays and homework projects received meticulous grading, but the smaller 2-page papers in each class? People became suspicious that perhaps he did not really read them. And so, I was drafted to find out.
Now you see, most people stick "hidden" text into their papers, like, "if you read this, I will buy you a coffee." Not me! I wanted to go for the gold, to prove beyond a shadow of a doubt whether Dr. Morley reads all of his papers!
And so, I wrote a normal 2-page essay, and added a third page like so:

If you are having trouble reading that, it is:
MY PLAN TO TAKE OVER THE WORLD
1: Tie up Dr. Morley
2: Distract Mormons with Tied Up Dr. Morley
3: Steal Golden Plates from Mormons
4: Trade Golden Plates for Cheese
5: Give Cheese to the U.N.
6: Take Over World

When I got my paper back, the grade was as follows: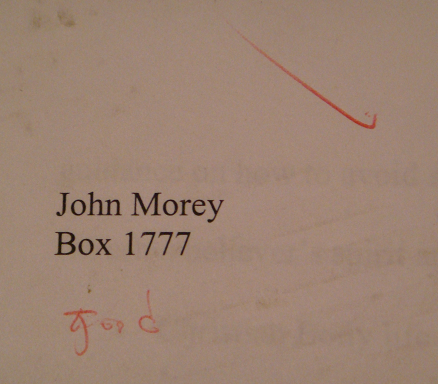 And thus, Part 2 of the experiment: I showed him the paper. Dr. Morley laughed so hard that he bent backwards into an L-shape. From that day forward, every paper of mine that he graded had extra comments involving the text. I miss being in his classes.
UPDATE!!!!!
Thanks to this, I have gotten back into contact with Dr, Morley again! He remembers the incident well, and would like it mentioned that he does indeed read papers. As it turned out, since my essay did indeed contain two pages of requirement-filling text, he saw no reason to grade it down. As previously mentioned, the man will take home HUUUUUGE stacks of paperwork, and the more important an assignment is, the more detail he will go into while grading it. The little two-page essays were looked at, but he didn't necessarily devote the same amount of time to them. Just so you know, an awful paper would still get a poor grade.